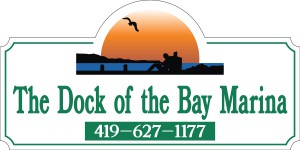 The Dock of the Bay Marina has been designed for the discerning boater who seeks a quiet and relaxing atmosphere in a premier facility.
The marina is centered in Sandusky's historic downtown district, within the well-protected waters of Sandusky Bay. The silhouette of freighters as they transit to the north and the sensational sunsets to the west will become daily scenes in your life.
Your slip is in the heart of Sandusky's waterfront and cultural area. For the family with children, the Jet Express is within a minute stroll and will take you across the bay to Kelley's Island and South Bass Island (Put-In-Bay).
Safe and secure, the marina has also been designed to cater your personal needs. A full staff will be on hand to assist you and to monitor your vessel.
The Dock of the Bay Marina will provide you and your boat with the personal attention that you deserve.
Free free to stop and see us by using our overnight or daily transient slips.  Hail us on channel 71 and we will help you safely dock in an appropriate slip.