The Dock of the Bay Marina has been designed with you in mind, the boater who seeks those marina amenities which enhance the enjoyment of boating. For more photos and a description of our facilities and activities, please see the facilities, goods and activities pages within this site.
Dockage fees for the 2022 boating season:


28' Floating Dock – limited utilities
$1550
28' Floating Dock
$2000

30'FloatingDock

$2425

30' FloatingDock – Single Slip Tie Up

$2675

36'FloatingDock

$3200

40'FloatingDock

$3500

45'FloatingDock

$3900

JetSki–Jet Dock

$575/$650

JetBoatOrOther 2ndSmallBoat

$850
Transient fees, $1.75 per foot overnight, $10-$15 daily (hail us on channel 71 for assistance).
Map of Slips Dock of the Bay Marina:

Hover over the map below and scroll to zoom in on a dock or slip.
Click on the map to see the full size.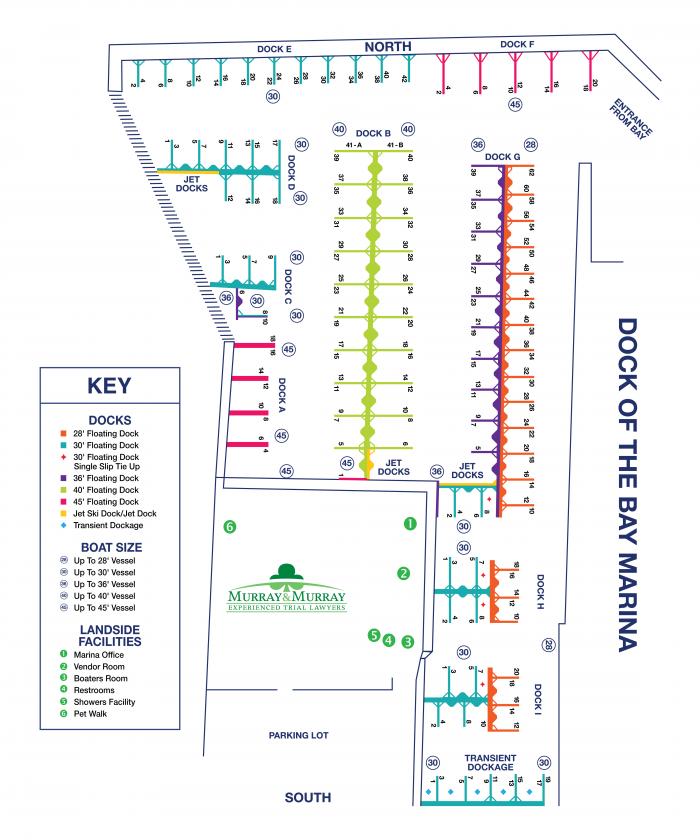 Click Here To View Dock A Slip Availability
Click Here To View Dock B Slip Availability
Click Here To View Dock C Slip Availability
Click Here To View Dock D Slip Availability
Click Here To View Dock E Slip Availability
Click Here To View Dock F Slip Availability
Click Here To View Dock G Slip Availability
Click Here To View Dock H Slip Availability
Click Here To View Dock I Slip Availability
Click Here To View Transient Dockage Availability